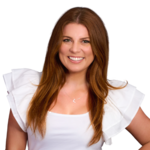 Alexis Brown
JORGENSON GROUP
REALTOR®
MEET LEXI BROWN
Meet Lexi Brown, our Realtor from Orange County, California! Lexi was born and raised in Orange County, California, specifically in the charming town of Orange. She attended California State University San Bernardino and previously worked as a High School History Teacher.
Lexi loves the challenge of working with people from all walks of life and helping them buy and sell their homes. She brings her outgoing personality and desire to help people to her everyday work, making sure everyone feels comfortable and at home.
Lexi's message to her clients is that there is a solution to every problem, and there is a home out there for everyone. She wants people to remember her as someone who was kind, efficient, and eager to help.
Outside of work, Lexi loves spending time outdoors, golfing, and enjoying a good happy hour with friends. If you ever meet Lexi at happy hour, she'll order a Titos soda with lemon, but she's also a sucker for a domestic beer.
Brokerage: Keller Williams Realty Round Rock, Texas