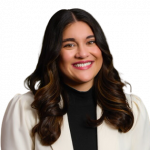 Mariana Bernardo
JORGENSON GROUP
LISTING PARTNER
MEET MARIANA BERNARDO
Meet Mariana Bernardo, our Listing Partner who hails from Adrian, MI. Also known as Mary Jane or Mo, she is a proud alumna of Middle Tennessee State University, where she honed her skills in hospitality and the music industry.
What attracted Mariana to real estate as a career was her interest in interior design and the opportunity to explore the world of real estate and interior design. Her attention to detail and passion for interior design make her a valuable asset to our team.
As our Listing Partner, Mariana ensures that all listings are accurate and up-to-date, making the process of buying or selling a home as seamless as possible for our clients. She takes pride in her work and is committed to delivering exceptional customer service.
When she's not working, Mariana loves to travel and immerse herself in different cultures, play her guitar, and go hiking. Her creativity and love for adventure are a great addition to our team, and we're lucky to have her on board.