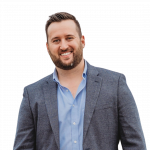 Kasey Jorgenson
AHWD | CLHMS | e-PRO | MRP | PSA | RENE
NAVY VETERAN | BROKER ASSOCIATE
REALTOR®
Meet Kasey Jorgenson
Kasey Jorgenson is the founder of Jorgenson Group - Keller Williams Realty with locations in multiple states. The Jorgenson Group is currently one of the top real estate organizations in the country with accolades from Real Trends Inc®, Austin Business Journal, Platinum Top 50, Real Producers Magazine, and many others.
The road to Real Estate
Kasey's exposure to the real estate world began early with a homebuilder-father and contractor-uncle. Watching them build and create piqued his interest; however, he found the industry's business side more appealing than the building.
Before settling into real estate, Kasey served six years in the Navy, ultimately with Helicopter Squadron HSC-8 and onboard the USS John C. Stennis. "I was a helicopter Crew Chief, serving as a Door Gunner, Anti-Submarine Warfare Specialist, and Rescue Swimmer," he explained. Jorgenson served the United States in both Operation Iraqi Freedom and Operation Enduring Freedom. However, Kasey knew a military career wasn't his future - real estate was.
Post-military, Kasey spent a year working alongside a top Keller Williams Realty team in La Mesa, California - Sandy & Deirdre Bramberg. "I interned with Sandy and Deirdre to make sure real estate was really what I wanted to do and to get some experience," he recalled. "I was basically just learning every single thing I could, and I learned a lot. I got a lot of perspective from a few really experienced agents. Sandy & Deirdre really helped to form who I was to become in this industry" Jorgenson said. And so, the seed was planted.
Laying the foundation
College and a hot real estate market brought Kasey to Austin from his Navy base in San Diego. It was the perfect time to enter the market and start building his dream. He joined Keller Williams Realty in Round Rock, Texas and just a few years later, brought on another buying agent to begin growing his newly founded team, The Jorgenson Group.
From there, it was a steady process of establishing the best systems, finding the best talent, and - above all else - sticking to Kasey's goal of being a customer service company that just happens to sell real estate. He had a philosophy that became the team's foundation, and it was simple - Have fun, work hard, strive for excellence, & take care of our tribe...always!
Fortunately, Kasey also knew that solid processes are the key to making any business work. From the beginning, Kasey always focused on supplying the best training and providing the most advanced operational systems. He understood that success would require staying at the leading edge of real estate technology without losing the personal touch every transaction deserved.
Of course, Kasey's Navy training didn't hurt either. The discipline and grit he developed during those years helped him lead his team and his company to success, despite the challenges of building and running a company.
A culture for growth
The main thing that intrigued Kasey about the real estate business was the growth potential. Glass ceilings only exist for people if you put them there. One of his mantras is a quote by businessman Richard Branson: "Train people well enough so they can leave, treat them well enough so they don't want to."
Jorgenson Group's culture of teaching and mentoring has fostered very successful growth over the years. Still, success only counts if everyone on his team is growing - not just the company itself. "Our team's universe should be big enough for everyone to grow as much as they want to," Kasey explains.
Growth is impossible without outstanding leadership, which Kasey is the first to admit. When asked about his leadership style, he likens it to a football coaching style...Kasey is a "Players' Coach" and will get in the trenches to lift his players every chance he gets. One coach he greatly admires, Pete Carroll of the Seattle Seahawks (which he is a HUGE fan of), said it best:
"Each person holds so much power within themselves that needs to be let out. Sometimes they just need a little nudge, a little direction, a little support, a little coaching, and the greatest things can happen."
The future is bright
Although Kasey doesn't personally work with many new clients, he is still The Jorgenson Group's backbone. He is the motivator behind the scenes, the coach calling the plays, and the catalyst to his team's success and growth. He is a compassionate mentor and gifted, engaging public speaker.
When he's not busy taking care of his tribe, he's spending time outdoors with his son, Karter. They enjoy boating, swimming, hiking, cycling, and enjoying the beauty of Central Texas in any way they can. Kasey has completed multiple MS-150 cycling events to benefit the Multiple Sclerosis Society, finished the "World's Toughest Canoe Race" (Texas Water Safari), and also the "World's Longest Nonstop Canoe Race" (Missouri River 340). He and his family are very active in the community and happily give their time helping many local organizations in the Austin, Texas area.
What's next for Kasey? More growing, more fun - and continuing to find amazing people and new opportunities for Jorgenson Group. If you're interested in joining, head over to our Careers page for potential opportunities!


Designations & Certifications
Kasey holds multiple licenses & professional certifications, including:
Local Involvement


Other Accolades

Austin Business Journal #15 Best Places to Work (Micro Category), 2021
Austin Business Journal #2 Team (Group 4), 2019, 2020, 2021, 2022
RealTrends Inc "America's Best Real Estate Professionals", 2018, 2019, 2020, 2021, 2022
RealTrends Inc #17 team in Texas for Team-Owned Brokerage, 2020

RealTrends Inc

#21 Mega Team in Texas for Sales Volume, 2022

RealTrends Inc

#17 Mega Team in Texas for Sales Units, 2022
Real Producers Magazine Top 500, 2021, 2022
Platinum Top 50 Finalist, 2019, 2020, 2021
Keller Williams Realty Eagle Award
Keller Williams Realty Hall of Fame ($300mm+ Sold)
Keller Williams Realty Quadruple Platinum Team
MAPS Coaching BOLD Graduate
Fast Expert Top 10 & Five Star Agent, 2020
NAGLREP Top LGBT+ Ally Team, 2020
Five Star Professional Award, 2023
BNI Pfriendly Referrals Chapter Secretary/Treasurer, 2019
BNI Pfriendly Referrals Chapter President, 2020, 2023
Brokerage: Keller Williams Realty Round Rock, Texas