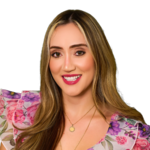 Ivanna Magdaleno
JORGENSON GROUP
REALTOR®
MEET IVANNA MAGDALENO
Meet Ivanna Magdaleno, also known as Mana, a Realtor® with a passion for helping others find their dream home. She was born and raised in El Paso, TX, and received her Bachelor's in Interdisciplinary Studies ECE-6 Bilingual and Master's in Science of Business from the University of Texas at San Antonio. Prior to joining the team, she worked as an Assistant Director of a preschool.
What attracted Ivanna to real estate as a career was her love for seeing homes and the potential they hold. She enjoys meeting new people, being part of an efficient team, and having a flexible schedule. Her best skills as a Realtor include problem-solving, communication, integrity, and patience. Her main message is that she is here to guide, support, and help her clients to the best of her ability.
Outside of work, she enjoys attending sports games, concerts, and food and wine events, as well as staying active with her favorite hobby, Crossfit.
Brokerage: Keller Williams Realty Round Rock, Texas