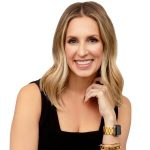 Amy Girouard
AHWD | C2EX | MRP | PSA | REALTOR®
BROKER ASSOCIATE | TRAINING & GROWTH PARTNER
Meet Amy Girouard
Remember when you were young and trying to decide not only your place in the world but which of the myriad of choices would make you the happiest? Ah, if only we knew then what we know now. Like many of us, it took a circuitous journey for Amy to finally get hit by the lightning bolt that told her that the love of interior design also includes the love of homes. When it hit, however, it hit hard and to the real estate licensing exam she went. Today, she loves nothing more than looking at the interior of a home and translating her vision of it to her clients. "I love walking into a place and imagining what it could be," she explains. "What would I do to bring it up to date? Where would I put the furniture? How could I make it look good on a budget?" And her clients absolutely appreciate her advice. Amy swears she doesn't have an official bucket list but when pressed, readily rattles off a list of hopes and dreams. She would like to buy a sailboat to island-hop around the Caribbean, take a big vacation each year, and buy multiple rental properties to manage herself. In the meantime, however, she is content using her skills as an educator to assist folks unfamiliar with the real estate process to successfully buy and sell homes. She has found she is especially drawn to the challenge of predicting the prefect price that a home will sell for.
WHY HIRE AMY?
"I'm very organized, logical, and a big believer in planning," she begins. "Most of all, I want to help people navigate what many consider a complicated process. I love that moment when, armed with knowledge, my clients discover that it isn't as complicated as they'd feared and it's not at all scary."
Some of Amy's accolades include:
2016 Keller Williams Productivity Coaching "Go Getter"
2016 Keller Williams Productivity Coaching #2 GCI, #3Total Units SOLD
2016 Keller Williams BOLD Graduate
2017-2018 Akin Elementary PTA board, VP of programs
2017-2018 and 2018-2019 Akin Elementary PTA sponsor
2018-2018 Akin Elementary sponsorship volunteer
2017-2018 Kingdom Heights Christian School sponsor and room mom
2018 Platinum Top 50 "Newcomer of the Year"
2019 Keller Williams Bold Graduate
Military Relocation Professional (MRP) Designation
Pricing Strategy Advisor (PSA) Designation
Keller Williams Ignite instructor
Founding member of Business Networking International (BNI) Rockin' All-Stars Hall of Fame chapter
2017-2018 BNI Chapter President
2018-2019 BNI Chapter Vice President (6 months)
#1 Agent in the Vista Oaks community
2021 C2EX - REALTORS® Commitment to Excellence Endorsement
SOME RECENT SUCCESS STORIES...
Error: web service is no longer available