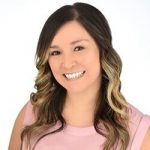 Aislyn Williams
JORGENSON GROUP | REALTOR®
DIRECTOR OF OPERATIONS
Meet Aislyn Williams
Most businesses have that one person who works quietly behind the scenes – the unsung hero or heroine who keeps the gears oiled while others get all the glory. The Jorgenson Group's gear-oiler is Aislyn Crocker, Director of Operations and all-around self-motivated, goal-achieving, collaborative, and customer-centric rockstar. You may work closely with Aislyn when the Jorgenson Group represents you in a real estate transaction, so let's get to know this multi-tasking, laser-focused real estate whiz kid a bit better.
A small-town beginning
There are small towns and then there are towns so incredibly tiny they barely make it onto a map. Aislyn was raised in the latter -- Strathmore, California -- 1.4 square miles in size. Strathmore has such a small population (about 2,800 residents) it's referred to as a "census-designated place," not a town. It is, however, located in the larger Central Valley region of the Golden State – the nation's fruit (and vegetable) basket. Her family grew oranges, primarily. Aislyn spent her entire life in this idyllic agricultural community, attending California State University, Fresno after high school.
She graduated with a certificate in Sport and Entertainment Facility Management and a B.S. in Business Administration with an option in Sports Marketing. It turns out that marketing is Aislyn's forte, and Ronald McDonald House gladly put her skills to work on their marketing and development team, as did a local law firm that hired her to head their marketing department. But, it was a very special man who eventually got her to pull up stakes and leave the Central Valley – destination, Austin.
What is the Director of Operations?
Aislyn's official title is Director of Operations for the Jorgenson Group. She's the one that the agents trust to keep track of their paperwork, get all the required signatures, and keep each transaction on schedule. And, although these are critical duties, we like to think of Aislyn as our all-around customer service maven. It's up to her, really, to ensure that your experience with the Group is perfect – and she excels at the job. Aislyn's "Bucket List" includes traveling to all 50 states and visiting all six Disney Parks in the world. In the meantime, she's all ours and we hope you enjoy working with her as much as we do.