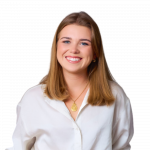 Adriana Roca
JORGENSON GROUP
TRANSACTION PARTNER
Meet Adriana Roca
When a real estate transaction coordinator confesses that they "like to be busy" - all is right in the world. Because there is no time for idle hands when working behind the scenes in real estate coordinating complicated transactions, as Adriana Roca, our confessor, can confirm.
As a transaction partner with the Jorgenson Group, Adriana keeps the wheels turning behind the scenes of one of Greater Austin's most successful real estate groups. Her days are filled with managing the countless details involved in the buying and selling processes, so the clients and agents she works with can enjoy a seamless, stress-free buying or selling experience.
Raised in Real Estate
While growing up, the real estate industry significantly influenced Adriana. She accompanied her mother, a realtor in South Florida, to open houses and listings, and her grandparents, initially land developers in Spain, were builders in Florida and Georgia. Throughout her childhood, Adriana experienced first-hand the value and opportunities real estate affords those willing to do the work.
It's no surprise that a career in realty soon followed Adriana's graduation from Florida State University. She cut her teeth working with a Realty and Property Management Group before earning her agent's license in Florida. After successfully closing six residential sales in her first six months, it became clear that Adriana's charming, open personality and tenacious nature ideally suited the exciting real estate world.
Overall, Adriana has worked on almost all sides of the industry, giving her invaluable insight into the processes, including how to gracefully and tenaciously handle any challenge a bustling real estate market can throw her way. She's a pro.
Details Matter Most
Growing up as the oldest of four children, Adriana has plenty of experience taking charge. Her attention to detail and excellent communication skills perfectly suit transaction management and client relations, not to mention her in-depth industry knowledge.
From contract to close, Adriana is working tirelessly behind the scenes to ensure everything is handled on time and as expected. She's quick to jump in and resolve situations without breaking a sweat - because at the end of the day, the devil is in the details, and she knows the process inside-out, from coordinating to scheduling to following up to close.
Water, please
Adriana's move to Austin was strategic. She craved more space and plenty of water, both plentiful in the Lone Star State. She's an avid rower and can boast of initiating her alma mater's first-ever rowing scholarship program while competing with the Florida State University Rowing Team. She's fluent in Spanish and thrives in team-driven environments. When she's not keeping transactions running smoothly for the Jorgenson Group, you will likely find her somewhere outside - near water, of course - with her faithful furry companion, Chispy.