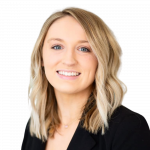 Taylor Brown
JORGENSON GROUP
SHOWING PARTNER | REALTOR®
Meet Taylor Brown
By Austin metro standards, Taylor Brown is a unicorn. She is one of the few residents that was actually born and raised in the area. Although she did a short stint in Dallas, the call of the hill country brought her home. As a Jorgenson Group Showing Partner, Taylor spends her days helping buyers find their dream home. She is a part of the well-oiled Georgetown extension team and brings a wealth of local-only insight into Austin's many communities and neighborhoods.
Although Taylor landed in a career perfectly suited to her skills and personality, the road there had a few detours along the way. Growing up, Taylor lived, breathed, and dreamed sports - namely basketball. However, a senior year injury shattered her dreams of collegiate basketball and any future as a competitive player. She attempted college - even studied kinesiology thanks to her years in rehab after injury - but the passion was missing.
It wasn't until she took a job in sales for a major brand retailer that things clicked into place. Taylor had the heart of a salesperson, and she thrived on the engagement and thrill of helping others find just what they needed. Taylor eventually transitioned to property management, followed by real estate. With two realtor parents, her role as an agent felt like coming home.
Although Taylor isn't currently handling all of the backend details of a traditional agent, she is checking all of her career boxes as one of Jorgenson Group's top showing agents. Her encyclopedic knowledge of real estate combined with unparalleled enthusiasm and warmth help all of her clients feel right at home, no matter which one they choose.
Outside of work, Taylor does what she loves most - spending time with family, satisfying her Tex-Mex craving at Austin's famed Chuy's, and shaping future collegiate basketball players as a Magic Basketball club coach.