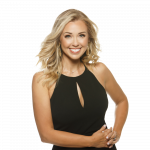 Tanya Kerr
GEORGETOWN, TX EXPANSION PARTNER
CLHMS | M.Ed | MRP | RAMSEY TRUSTED PRO | REALTOR®
Meet Tanya Kerr
There's a sign in Tanya Kerr's real estate office that says, "People Over Production" - and that about sums up her philosophy of both business and life. Tanya has built a career around helping people and she is steadfast in her belief that people have made her successful - not transactions.
Life training
Tanya's unmatched work ethic and inclination to help others began in childhood, growing up on a small family farm in Paige, Texas (about an hour outside of Austin). From an early age, she worked hard helping with the farm and raising her much younger brother and sister after her mother tragically passed away. For Tanya, resilience was an exercise practiced often, and her perseverance and grit followed her from Paige, TX, on to the University of Houston for college.
After graduating with a degree in Elementary Education, she went on to earn her master's degree in Educational Administration - because the next goal is always just around the corner for Tanya. After graduation, she moved back to the Austin area and began a career in education as a teacher, an Instructional Coach, and then an Assistant Principal with Round Rock ISD.
Grounded in gratitude
Was Tanya's transition from education to real estate accidental? Far from it. In the ten years she spent as an educator, she was also an avid weekend warrior. She spent every minute of her spare time buying, renovating, and selling houses - until she finally gave in to her passion for real estate and pursued her license.
Once again, mission accomplished - and she began her new career with Jorgenson Real Estate Group. This work-family suited Tanya perfectly - she preferred working in dedicated and collaborative environments, and Jorgenson Group didn't disappoint. "We support one another. We always cheer each other on, champion one another, and - when needed - rally around someone during a tough time. What we have is lightning in a bottle, and I couldn't be more proud to be a part of the Jorgenson Group." explains Tanya.
Experience is everything
Tanya has built a reputation for becoming a part of her client's support system for long after a transaction is complete. Although she is excellent at negotiating and finessing, she's even better at the softer skills - the people skills. After all, real estate is a relationship business and a tight-knit community. Because Tanya has been a top producer year after year, she was recognized for her excellence in the industry and featured in the Real Producers Magazine, something she was very proud to be selected for.
It is clear that Tanya is driven by serving others and helping her clients grow and maintain their wealth through real estate. Tanya takes great pride in providing 5-star service and employs a white-glove approach to each client, making it her mission to execute a seamless experience through her boundless loyalty, tenacity, enthusiasm, and support personnel.
Education meets real estate
The opportunity to bring her educational training to real estate presented itself when the Jorgenson Group adopted an expansion model. Tapped for leadership, Tanya now heads up the Georgetown expansion for Jorgenson Group, and she keeps busy with her team, for whom she is the greatest champion. After all, Tanya earned every bit of her success through hard work, critical thinking, and genuine caring - and she expects nothing less from the agents she mentors.
Tanya is married to Adam, her like-minded partner in crime. The two keep busy wrangling their smart and sassy daughter, Lucille, when not working or tackling the next home reno project. She stays active in her community and is a firm believer in giving back to strengthen those around her. She is passionate about education supporting kids through their formative years and enjoys giving back to her community through worthwhile organizations such as The Texas Baptist Children's Home. What's the next goal for Tanya? Only time will tell what this over-achiever will accomplish.


Other Accolades
CLHMS - Certified Luxury Home Marketing Specialist
M.Ed - Master's of Education
MRP - Military Relocation Professional
Member - Institute for Luxury Home Marketing
Jorgenson Group Circle of Excellence
MAPS BOLD Program Graduate
Keller Williams Quadruple Platinum Expansion Partner, 2020
Wolf Ranch "Top-Selling Realtor" Award, 2020

Austin Business Journal's Profiles in Power Nominee, 2021
SOME RECENT SUCCESS STORIES...
Error: web service is no longer available