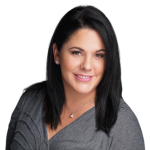 Shannon Bowman
JORGENSON GROUP
ARMY VETERAN | ABR | SFR | REALTOR®
Meet Shannon Bowman
Shannon Bowman is a real estate professional whose commitment to her clients is unmatched. Known throughout the local market for the vigor with which she approaches every individual buying and selling experience, she strives to keep her information current so that she can answer any questions that may arise while also making herself constantly available for feedback.
She prefers striking long-term business relationships instead of going for quick sales, confident that in the long run her emphasis on client satisfaction has won her a positive reputation and led directly to her success. Shannon discovered the joys of being a real estate agent later in life.
After she married her husband Justin and their 5-year-old son Jaxon was born, she was eager to spend more time with both of them. The solution was simple: she would go into business with Justin. This way, Shannon is free to spend ample time with her son and she gets to spend ample time with her husband in their office. Since then adding the last piece to the family puzzle with daughter Vivian born in 2018.
Shannon specializes in veteran and military services. She has a knack for placing these brave men and women and their supportive families in homes with which they can be happy for a long time. Because she herself served in the Army Reserves, spent time on active duty, and grew up in a family of people who served, she understands the unique needs of the military family and remains sensitive to those needs while she is selecting and showing homes.
Outside the office, Shannon enjoys traveling to the beach and reading in her spare time. First and foremost, she is a devoted mother and a loving wife.
Designations & Certifications
Shannon holds multiple licenses & professional certifications, including:
Local Involvement

Brokerage: Keller Williams Realty Round Rock, Texas