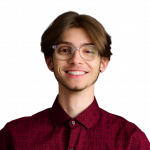 Redik Durán
JORGENSON GROUP
REALTOR®
MEET REDIK DURÁN
Meet Redik Duran, Realtor and Apartment Locator for the Jorgenson Group. Redik was born and raised in Fort Lewis, Washington, and before joining our team, he worked in various industries from food service to the tattoo industry. However, he always had a passion for financial independence, which led him to the real estate industry.
In simple words, Redik's job is to help people find an apartment they love at no cost to them. Redik's best skills for his real estate career are patience, communication, and the willingness to learn and adapt. Redik loves his everyday work because it allows him to explore new areas in his community and meet new people.
Important words that Redik lives by: Life is short, so we should get off the fence. Redik wants people to remember him for his kindness and sense of humor. When he's not working, Redik is happiest out driving his cars. Get in touch with Redik today and let him help you find your dream apartment!
Brokerage: Keller Williams Realty Round Rock, Texas