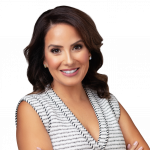 Rebecca Vita
JORGENSON GROUP
REALTOR® | HABLA ESPAÑOL
Meet Rebecca Vita
"Real estate isn't always pretty." Refreshingly honest and unerringly correct, Rebecca's candid perspective on the ever-changing world of real estate is 100% indicative of her deep industry understanding and immense patience. Over the years, she has helped countless clients confidently navigate the waters of buying or selling their homes in Austin and the surrounding areas, expertly showing them every rock in the river along the way. Rebecca's reputation for knowledgable, friendly, and professional service is evidence of her unwavering dedication to championing the dreams and needs of each and every client. Enthusiastically dubbed a "super-agent" by one client, Rebecca brings a refreshing combination of approachability and determination to each project.
TRANSITIONS ARE HER SPECIALTY
Rebecca's professional career began in teaching. For over a decade, she parlayed her degrees in English and Psychology into guiding students through the transition from child to teen as a middle school teacher. She wholeheartedly credits her success in real estate to her years instructing and mentoring hundreds of pre-teens. "Working with students of all abilities and backgrounds, listening carefully to determine their needs, educating them on life's processes – it all transferred readily to my career in real estate," she said. She's not alone in this theory - real estate mentor Kasey Jorgenson agrees, "Anyone who can negotiate with a classroom full of adolescents has what it takes to succeed in real estate! Rebecca is positively inspirational."
ROOTED IN TEXAS
Raised in El Paso, Rebecca now lives in Georgetown with her husband and two children. Having fallen in love with everything about greater Austin, her enthusiasm for the area is contagious. "It's magical! The food, the music, the special events, and the culture – they all combine to make Austin the best place in the country to live."
SUCCESS IS IN THE DETAILS
"Always have a Plan B, C - or D!" The world of real estate is far from predictable. However, you can expect a seamless buying or selling experience with Rebecca, thanks to her pragmatic problem-solving and relentless work ethic. Her hands-on involvement will ensure no stone is unturned, no detail missed, and no question unanswered. Approachable and friendly personality aside, Rebecca will win you over with her critical thinking, honest perspective, and creative ideas, giving you the peace-of-mind to confidently traverse any real estate transaction.
SOME RECENT SUCCESS STORIES...
Error: web service is no longer available