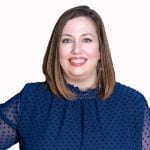 Niki Orona
JORGENSON GROUP
LISTING PARTNER
Meet Niki Orona
Real estate is rarely a first career. Agents and support folks come from a variety of backgrounds and teachers are one of the more common.
When you think about it, that makes sense. Teachers are nurturers; they are creative, patient, caring, and dedicated – all qualities that transfer well to the real estate industry.
This brings us to Niki Orona, a former teacher and now, to our delight, a member of the Jorgenson Team.
She's a small-town girl
Niki was born and raised in Carlsbad, NM, "… known for the Carlsbad Caverns and that's about it," she said, chuckling. "It's the kind of town that has a total of five stoplights, so if you catch the green light for all of them, you might blink and miss the whole town."
Right out of high school she left that 5-stoplight town for Norfolk, VA to attend Old Dominion University. She graduated with a degree in Early Childhood Education with a minor in Special Education.
"Even when I was very young, I loved school and would emulate my teachers when I would play school at home with my dolls."
It was inevitable then that Niki, whose deep-rooted passion has always been to help people, would end up teaching children, which she did for 13 years.
"I taught first grade for four years and then spent the last nine years teaching fourth graders. I absolutely loved my time with my students and how our year together would evolve from a group of kids who would start on the first day, shy and apprehensive to a close-knit, family unit who genuinely cared about one another and would share almost anything with each other," she recalled. "Fostering those relationships was the highlight of my teaching career," Niki added.
Finally lands in Austin
Niki spent years living in San Antonio so she could be close to her sister. Until that is, she discovered how much Austin had to offer.
Choosing where to settle and call "home" was a no-brainer.
"Austin just always seemed to have something going on and overall had so much to entice anyone wanting to stay," she said.
"I loved that you could go to random restaurants and catch live music, hang out in parks downtown (and bring the dog), go boating and just the overall, non-judgmental, 'everybody belongs' vibe the city gives off and prides itself on."
And, on to real estate
Buying or selling a home is a process that is completely foreign to first-timers. It brings with it a steep learning process and, without the guidance of a good real estate agent, it can be rife with pitfalls.
"I became interested in real estate when I was in the process of selling my first home and buying my second," Niki explains.
"Since I bought my first home directly from the builder, I'd never worked with a real estate agent so I wasn't really familiar with what they did."
In fact, she considered real estate agents as "just another salesperson who was only looking out for their own bottom line."
She soon learned how very wrong those assumptions were.
"My agent, Kasey Jorgenson, spent hours with me, explaining all of the nitty-gritty details that the typical person just doesn't know when buying or selling a house," she continued. "I felt so informed and empowered throughout the whole process."
The experience was, in fact, inspiring. Here was someone who was living her dream – helping people realize theirs, counseling them, teaching them, and yet still had time for his family.
"It was nothing like the 'used car salesman' transaction that I envisioned/dreaded experiencing when we realized I needed a larger home for my growing family."
This was Niki's "aha moment," when she realized that her dream of a life's work that included helping others could be realized.
Coupled with the her desire for increased income, and a more flexible schedule for Mom to spend time with the kids – to provide them with "a childhood filled with experiences that will make them better-rounded individuals," she decided to leave teaching and join our team.
And, we are so glad she did.