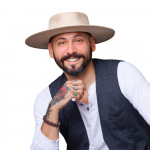 Kyle Nitchy
JORGENSON GROUP
NAVY VETERAN | REALTOR®
Meet Kyle Nitchy
If you were to combine the skills and talents of an accomplished businessman with a military background in Field medicine, a flair for the bizarre, and a dash of culture and class that can also double on drums, you'd be talking about Kyle Nitchy.
From Artist to Activist
Hailing from Northern California, Kyle is a dynamic individual. From an early age, he was taught the value of gaining marketable skills, which explains his passion for pursuing untapped adventures and discovering new passions.
Rallied by the events of Sept 11th, Kyle put down his guitar and enlisted in the U.S. Navy, where he spent several years serving as a Hospital Corpsman. Post-military, Kyle resumed his love for the arts by attending San Francisco State University earning a BA in Film and Television, which led to several years of working in technical and directorial roles.
Following the many open doors presented by his numerous relationships with colorful and interesting characters, Kyle expanded his acumen in various fields like the Culinary arts, Dance, Agriculture, and Vinocology, accumulating various certificates and licenses stretching from Food Management to Phlebotomy.
How it all stacks up
Kyle's drive to discover, willingness to get hands-on, and ability to achieve success is why he excels in making his client's dreams come true. Surviving and prospering as a Realtor ® demands an entrepreneurial mindset tempered by a solid affinity for detail. Lucky for Kyle - and his clients - he is just as adept at creative thinking as he is at making practical decisions. He sees potential where others do not, and he solves problems with the ease and calm of a professional multitasking under pressure.
Always Growing
When Kyle isn't helping his clients achieve their real estate goals, you can find him tending to his garden, expanding his musical catalog, employing his Sommelier skills of fine wine, or gearing up for a motorcycle ride. While he loves the thrill of property hunting, negotiating complex real estate contracts, and passionately pursuing hobbies, he also relishes downtime with his wife, Jackee, and their dogs, Banjo and Ukelele, a.k.a. Lelee.
Brokerage: Keller Williams Realty Lone Star
CLIENT TESTIMONIALS

"Kyle was Amazing! His support assisted us in purchasing above what we initially desired. We had a fe
…
Read More
w bumps in the road and Kyle remained professional and committed. Kyle professionalism and knowledge was truly appreciated.I am very grateful that his loves his job and helping others in the process! I will continue to recommend Kyle to all those o come in contact in need of his speciality ."
Read Less