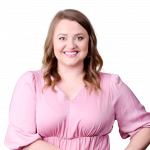 Kaylie Henry
JORGENSON GROUP
REALTOR®
Meet Kaylie Henry
Kaylie has been a resident of the Austin area for over 20 years, and strives to bring a level of professionalism and excellence to every client experience.
From the moment you meet Kaylie, her enthusiasm and positivity are contagious. Where does she get it? Perhaps it's a result of ten years shaping the minds of elementary-aged children in the classroom, or perhaps its her experience helping entrepreneurs realize their dreams. However, it's more likely you're working with her to buy or sell a home - because real estate is where she truly shines.
While teaching, one thing became clear to Kaylie; she loved the fulfillment of educating others. Teaching, showing and guiding with patience, enthusiasm, and determination formed the foundation of her unique and engaging teaching persona. However, in working with entrepreneurs in the business world, she came to realize that there was a life for her beyond the classroom - she just had to reach out and grab it.
The drive to build something of her own led her to pursue the opportunities in the always-changing, never-boring world of real estate; she discovered the perfect outlet for her need to guide and teach, her determination to accomplish the impossible, and a world where her enthusiasm and positivity yields happiness for others.
Designations & Certifications
Kaylie holds multiple licenses & professional certifications, including:
Local Involvement



Brokerage: Keller Williams Realty Southwest

CLIENT TESTIMONIALS

"We had the pleasure of working with Kaylie Henry as our realtor, and we couldn't be more thrilled wi
…
Read More
th the experience. Kaylie's exceptional communication skills were evident from day one. She kept us informed every step of the way, promptly answering our questions and addressing any concerns. What truly stood out was Kaylie's unwavering dedication to selling our property. She went above and beyond to market it effectively, showcasing its unique features and ensuring it reached the right audience. Kaylie's hard work paid off, as our property sold in the exact timeframe we needed. If you're in need of a realtor who combines excellent communication with unmatched dedication, Kaylie Henry is the one to choose."
Read Less

"Kaylie was amazing to work with. We looked at over 100+ homes over 4 months and see always met me wi
…
Read More
th a smile and recent updates with the market. Was always searching for new listings in the hot market and was incredibly responsive and looking out for my best interests. Can't recommended her enough!"
Read Less