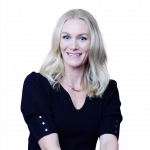 Holly Johnston
JORGENSON GROUP
REALTOR®
Meet Holly Johnston
Holly Johnston has built a career around delivering exceptional customer service and creating impressionable experiences. As an avid problem-solver with a healthy dose of southern charm, she persists in making every step of the real estate experience positive, hurdles or not, by relentlessly championing her client's best interests. Without a doubt, Holly's in your corner throughout the home buying or selling process.
An entrepreneurial spirit
Born and raised in Ft. Worth, TX, Holly had childhood dreams of being a singer and rodeo performer. However, adulthood led her down a different path - an entrepreneurial one. By age 21, she had moved to Austin and started her first company, a high-end personal transportation service for corporate executives and VIPs. Once established and running smoothly, Holly was ready for a new challenge and set her sights on real estate.
While in college, Holly worked in apartment leasing management and got her first taste of the industry. The satisfaction of handing over that key to a person's new home or collecting it as they moved on to new adventures was heady, and Holly knew working in residential real estate would take that excitement next level. So she dug in to find the perfect family for her next career.


Joining the tribe
Starting any new venture is full of unknowns, but Holly knew the right company could successfully guide her through this new chapter in life. She found that opportunity in the Jorgenson Group and never looked back. She found great comfort and inspiration from the exceptional training and systems the firm provided and the values they upheld. Holly had found her tribe.


Inspired by transformations
Although you may wonder when she has time, Holly is also a certified personal trainer. She teaches cycling classes and loves helping her students undergo physical transformations. As an instructor, she's able to shape lives physically. Likewise, as a realtor, Holly can help shape lives emotionally by connecting her clients to the home of their dreams. "Any transformation where I can make someone's life just a little - or a lot - better is what I'm aiming for," says Holly about her work.
Holly is part of the Georgetown expansion team with the Jorgenson Group and works tirelessly for her clients. There's no downtime in real estate, and that suits her just fine.
She lives in the area with her daughter, Kylie, and cat, Muggles, affectionately referred to as "plus-size" in appearance and personality. When not tirelessly pounding the pavement, solving problems, and jumping through hurdles for her clients, she can be found teaching a cycling class, adventuring with her daughter, or simply soaking up the moment in gratitude.