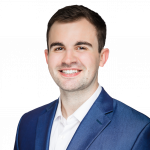 Andrew Grenbemer
JORGENSON GROUP
REALTOR®
Meet Andrew Grenbemer
If you think baseball and real estate are totally unrelated - think again. Andrew Grenbemer is proof that the two align in a couple of ways. As a former baseball player Data Analyst, Andrew was tasked with running statistical, comparative, and predictive models to appraise players for team scouts - much like how real estate is appraised in today's market.
Andrew is from Mill City, OR (just east of Salem), and baseball was his path in life until circumstances deemed otherwise. However, his creative thinking, dogged determination, and unerring ability to adapt and pivot landed him in the world of real estate.
Lifes Influence
There were a few things that nudged real estate into Andrew's career trajectory. He grew up in a small town where homeownership was rare. After witnessing countless friends and neighbors lose their homes to devastating wildfires, he resolved to find a way to help others.
A move to Austin and exposure to one of the most competitive housing markets in the country sparked a fire - no pun intended. He realized that helping others establish homeownership and grow their personal wealth was one of the greatest gifts he could bestow - and real estate was a powerful tool to accomplish that goal.
Relationships Count
Andrew's outlook on life - both professionally and personally - is rooted in establishing and nurturing healthy, trusting relationships. In fact, his work ethic has roots in family relationships, as he claims that success as a real estate agent results from "treating every client like they are my parents - only the best will do."
Andrew's gift for numbers, highly analytical nature, experience in construction (he apprenticed for a general contractor), competitive nature, and genuine warmth are all the aspects home buyers and sellers want and need in their corner while navigating the waters of real estate in the greater Austin area.
In his downtime, you can find Andrew exploring the trails and parks of Austin with friends and his faithful canine companion, a black lab/border collie mix. He still loves baseball and catches a game whenever possible.
Brokerage: Keller Williams Realty Round Rock, TX
SOME RECENT SUCCESS STORIES...