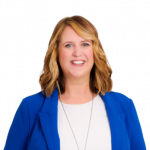 Amy Staino
JORGENSON GROUP
REALTOR®
Meet Amy Staino
Working in real estate requires a specific set of skills, which Amy Staino has in spades. From solid relationship building and an eye for detail to savvy negotiation skills, Amy's journey to real estate included training in all the areas that count.
Texas Roots
Born in Georgetown, TX, Amy is a lifelong Texan. After graduating from Georgetown High School, she dove right into the professional world as a sales and marketing assistant for government contracts at Sierra Microwave Technology. Next, Amy moved to TECO-Westinghouse Corporation and propelled up the ranks to Project Administrator.
Her time at both corporations laid the foundation for her future in real estate in more ways than one. After almost a decade of relationship building, customer finessing, and managing complex contracts, Amy had the opportunity to retire from the corporate world and pursue her real estate license - a dream she never thought possible. After closing her first deal, it became clear that everything learned working in the corporate world was preparing her for a fulfilling career in real estate.
Skills for Life
While establishing her career as a solo real estate agent, Amy also worked with CHASCO Construction - a premier full-service construction company in Austin-Roundrock, TX. During this time, she experienced first-hand the mind-boggling logistics involved in ground-up construction projects, including contracts, permits, construction and utility planning, and more.
The skills and relationships she developed professionally at CHASCO and throughout her corporate career further fueled Amy's desire to commit to real estate full-time. So, she took the plunge and joined a team. She worked for a few firms in the Austin area, including a farm and ranch-focused boutique, before finally landing with the Jorgenson Group.
Work Ethic for the Win
Having several years of success under her belt, Amy found herself positioned to be selective with her real estate family. Everything about the Jorgenson Group called to Amy - dedication to customer service, orderly contractual processes, immense support, innovative and highly efficient operations, and an emphasis on work-life balance.
As an agent, Amy thrives on seeing the potential for homebuyers and working tirelessly to make ownership happen seamlessly. Her vast experience in negotiation, relationship management, finessing contracts, and never missing a detail translate to one thing - turning her clients' dreams into reality. She's tenacious in her process and gracious to the end.
Amy enjoys spending time with her husband and three sons in her downtime. When she's not hiking or boating around Central Texas lakes with the family, she's relaxing with her three dogs and planning the next trip. Disney anyone?
Brokerage: Keller Williams Realty Lone Star
CLIENT TESTIMONIALS

"Amy was amazing. She was incredibly responsive and easy to reach if we had questions or concerns at
…
Read More
every step. It was our first experience selling a home which was nerve-racking, but Amy provided solid advice on everything from pricing and staging and was a huge help working through all the negotiations that came up. She also helped in the purchase of our new home from a builder and helped us make sure everything was done right. I would highly recommend her whether you're buying or selling!"
Read Less

"Amy did an amazing job selling our house! She and her team were not only extremely professional, but
…
Read More
so warm and friendly and easy to work with. Amy made an overwhelming process manageable, and got us a great offer on our home in the middle of a confusing market. Cannot recommend her enough!"
Read Less