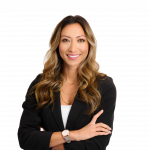 Amber Trom
JORGENSON GROUP
REALTOR®
Meet Amber Trom
Amber Trom loves a challenge. Whether it's graduating from high school with an associate's degree or pushing herself with outdoor activities such as running, she will prevail. This "can-and-will-do" attitude is exactly why she is such a valuable asset to her real estate clients and the Jorgenson Group.
Hailing from the pacific northwest, Amber's parents - an entrepreneur and banking compliance officer - taught her a valuable life lesson early on: success is the byproduct of tireless effort, clear communication, analytical prowess, and solid relationship building. Taking this life lesson to heart, Amber blazed a trail of academic and professional success only the most determined can achieve.
From Coding to Closing
Following a successful, demanding career in medical coding, Amber moved to Georgetown, TX, to begin a new professional chapter in one of the most demanding industries around - real estate. Drawn by the challenge of navigating one of the hottest markets in the country, she seamlessly transitioned into the world of real estate, earning a coveted spot on the Jorgenson Group realtor team.
Amber's mastery of detail and time management, clear communication, and problem-solving have served her - and her clients - quite well. Her unbreakable commitment to helping each seamlessly buy or sell properties in the heart of Central Texas is only matched by her tenacity, warmth, and innate ability to effortlessly manage the process from start to finish.
Amber's talent for transaction management and relationship building is her superpower, and it more than benefits those she works with throughout the real estate process. Trust is essential for success in the real estate industry, and Amber continues to earn it in spades.
Personally Speaking
When Amber isn't busy helping her clients successfully close, she's spending time with her husband and three sons exploring everything Austin, Round Rock, Georgetown, and beyond have to offer. From outdoor activities like paddleboarding and hiking to foodie adventures, she meets every endeavor with the same energy and determination that's successfully carried her through life.
Brokerage: Keller Williams Realty, Round Rock, TX