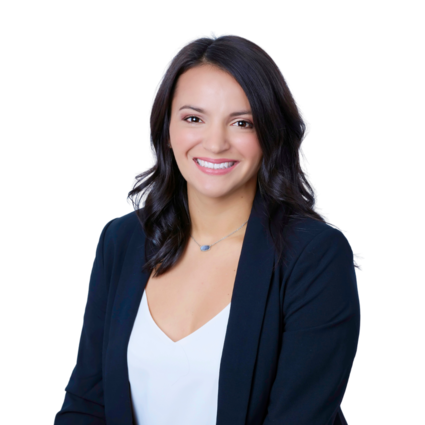 Alycia Jorgenson
Jorgenson Group
Navy Veteran | Transaction Partner
Meet Alycia Jorgenson
Not many folks can expertly discuss survival gear for aviators - that is unless you're a former Aircrew Survival Specialist - a.k.a. parachute rigger - for the United States Navy, like Alycia Jorgenson. So how did she go from building survival gear for aviators to managing complex real estate contract transactions for Jorgenson Realty Group? Let's find out.
Alycia's path to the real estate industry was circuitous, like many in the business. A New Mexico native, she began her adult life in the U.S. Navy where she met her husband, Kasey Jorgenson, while stationed in San Diego. Once their enlistments ended, the two of them - ready for a change - set their sites on building a new life in Austin, TX.
As Alycia's husband and partner in crime began building his real estate business, she focused on her passion - teaching. Armed with a degree in education, she settled into the Round Rock school system. She worked there for five years before moving on to writing digital reading curriculum for a company focused on educational services.
In the meantime, Alycia and Kasey welcomed their son, Karter, to the family, who is now three years old and most definitely the life of the party. However, as their family was expanding, so was the Jorgenson Real Estate Group. Alycia was always connected to the people there, who were like a second family, so her decision to leave education and join the business in 2021 was like coming home.
Alycia's position as a Transaction Coordinator keeps her behind the scenes and connected to all. She and the team she works with keep the wheels seamlessly turning to succinctly execute the firm's many real estate contracts.
Despite being in an industry as far from parachute rigging as they come, she is exactly where she belongs - growing something that matters with and for her family.